CYJ's long-time Executive Director, Frank Silberlicht, always says, "If you want your kids to have a Jewish background, give them a Jewish playground." Camp Young Judaea-Texas is just that—a place for Jewish children to learn, grow, and explore their Judaism in a fun and immersive environment. Our community is built on a diversity of abilities, backgrounds, and denominations, creating endless opportunities for the discovery of Jewish identity and connection to Israel.
How do we create positive Jewish experiences and foster Judaism for our campers at CYJ?
Jewish Environment
At CYJ, Judaism is about so much more than reading prayers from a siddur. From learning Jewish rituals, using Hebrew words in daily camp life, and saying the Shema before bed every night, we find ways to infuse Judaism into all aspects of camp. If you don't think Judaism can be fun, you haven't witnessed 300 campers in our dining hall, jumping and cheering their hearts out during the birkat hamazon (the blessing after meals). A lifetime of proud Jewish connection begins at CYJ Texas.
Love of Israel
It's no secret that we LOVE Israel. When you drive through the CYJ gates, you'll see Hebrew signage hanging and Israeli flags proudly waving from buildings. Our experiential educational programming focuses on showing our campers all aspects of Israeli culture, history, and society, and our delegation of Israeli staff infuse a special ruach (spirit) that cannot be beat!
Activities
From camper-choice electives in the morning to programs by age group in the afternoon, we offer over 60 unique activities throughout the summer! Whether it's our Premier Sports League, ceramics, ropes course, robotics, fishing, dance, mountain biking, baking, or something else, we truly offer something for everyone.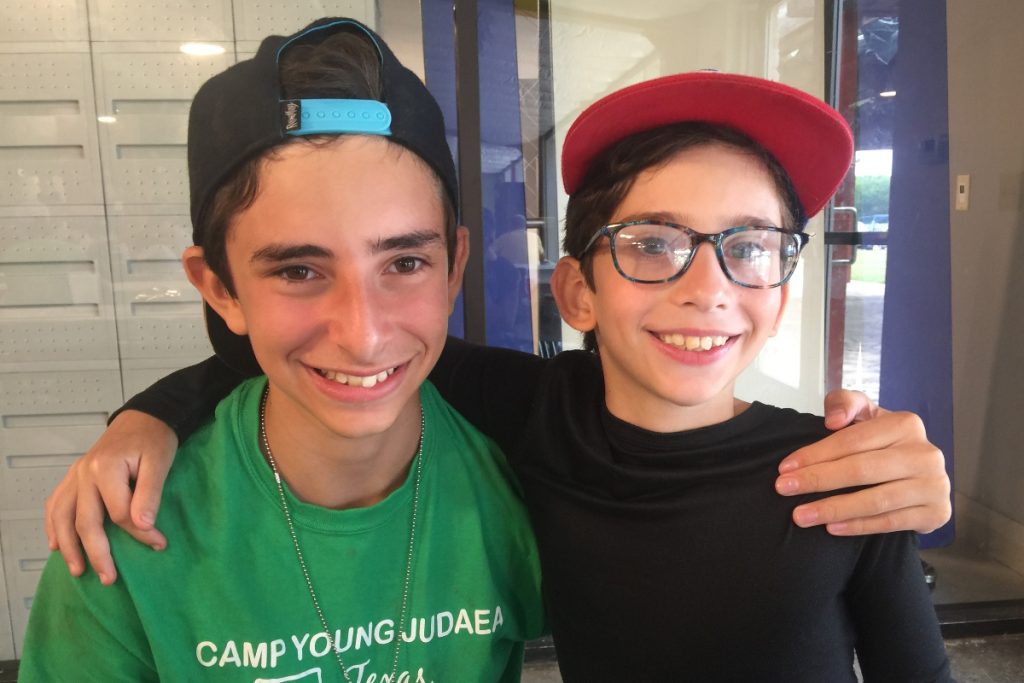 State-of-the-Art Facilities
With their signature Texas Hill Country charm, every building at camp is designed to meet the needs of our campers. Free swim will never be the same after racing down our TWO amazing water slides, and campers can challenge themselves on our Alpine ropes course tower. Maybe they need some downtime in our eco-friendly Experiential Learning Center. Did we mention our tennis courts, archery range, putting green, soccer fields, and 18,000-square-foot Camper Sports Center?
Outstanding Tsevet (Staff)
Our staff are more than just counselors and chaperones to the campers; they are Jewish role models. Our entire team undergoes a rigorous hiring process and a week of pre-camp training from subject-matter experts in the areas of child development, bullying prevention, emergency procedures, homesickness, creative program planning, and more. Of all the factors contributing to camper satisfaction, our staff are as important as any. It's no surprise that so many alumni return to become counselors when they grow up.
We can't wait to see you this summer!
Afford Jewish Experiences and Support Judaism with Summer Camp
There are options to help families afford identity-building Jewish camp experience. Camps offer scholarships, as does the Dallas Jewish Community Foundation and Jewish Children's Regional Service. But scholarships and grants often do not cover full camp tuition and other camp-related expenses such as gear and travel.
Dallas Hebrew Free Loan Association offers no interest loan programs for Jewish experiences. These help families bridge the gap between scholarship aid and expenses, or simply help families spread out tuition over time without using high-interest credit options. Loans go up to $3,500 and are always anonymous and always zero interest, making them an affordable way to ensure your children have a Jewish playground this summer.  
Learn More About DHFLA's Jewish Experience Loans: