Alexander Muss High School in Israel (AMHSI-JNF) is a pluralistic, college prep, international study abroad program that strengthens teens' Jewish identity, teaching them 4,000 years of Jewish history while exploring the land of Israel right where it happened! AMHSI-JNF offers different programs year-round during the academic year and the summer, so students can go to Israel on any session they choose. No matter the session, an AMHSI-JNF experience includes opportunities to make new friends and memories and have the Israel trip of a lifetime.
During the school year, teens can earn college credit by studying abroad in Israel for 18 weeks or 8 weeks on our Semester or Mini-mester sessions. Students learn Jewish history while keeping up with their coursework from home. From digging up artifacts from biblical times to exploring Modern Day Zionism, students connect to their Jewish identity while studying math and English.
Want to enhance your Israel semester abroad? Teen leaders can apply for the Impact Fellowship every Fall Semester. The Alexander Muss High School in Israel Impact Fellowship prepares a select group of high school students to take their place as future Jewish change-makers for a semester abroad. When their study abroad is complete, fellows return home as ambassadors for Israel and the Jewish people, armed with the necessary tools to conduct recruitment events, promote the school and all that it stands for, and ready to embark on the next stage of life: college.
In the summer, AMHSI-JNF offers three transformative summer experiences for teens: Foundations, Your Way, and Roots Israel. Each program is uniquely focused on a specific facet of Israel, so teens can choose the program that will resonate with them the most. Each program has grants available so you can save up to $3,750 off a summer Israel experience!
Additionally, generous grants are available for Alexander Muss High School in Israel's academic programs! As part of an unprecedented $25 million in tuition support provided through Jewish National Fund-USA, in partnership with the Bar Yadin Family Foundation, Dream Israel will make grants of up to $7,500 available to teens who want to study abroad and strengthen their Jewish identity. Whether they're considering a Semester, Mini-mester, or Summer session in Israel, students have the opportunity to fundraise for a Jewish National Fund-USA project and earn a grant for a session of their choosing. And thanks to RootOne, vouchers of $3,000 are available for qualified summer programs as well. AMHSI-JNF is a proud partner and grantee of RootOne, a new initiative that helps connect thousands of Jewish teens to Israel by lowering the financial barriers to participation in immersive summer trips to Israel. Over 20 grants have been awarded to teens in the Texas area—you don't want to miss out.
Dallas Hebrew Free Loan Association Supports Teens' Jewish Identity
To bridge the gap between grants and program tuition and expenses, Dallas Hebrew Free Loan Association offers no interest Jewish Experience loans. Loans go up to $3,500 and are always anonymous and always zero interest, making them an affordable way to ensure teens can participate in immersive Israel experiences that deepen their Jewish identity and connection to Israel such as the ones offered by AMHSI-JNF.
Study Israeli history and earn college credit on our signature academic program, Foundations Israel. Teens can journey through history in six weeks, delving deep into understanding their connection to Israel and the Jewish Diaspora with a combination of classes and trips all throughout Israel.
Explore Israel in greater depth on Your Way Israel, a six-week summer travel program that lets you focus on a single chug (elective): Arts & Culture, or Entrepreneurship. Explore Israel while being immersed in a topic of interest that strengthens students' Jewish identity and their connection to Israel.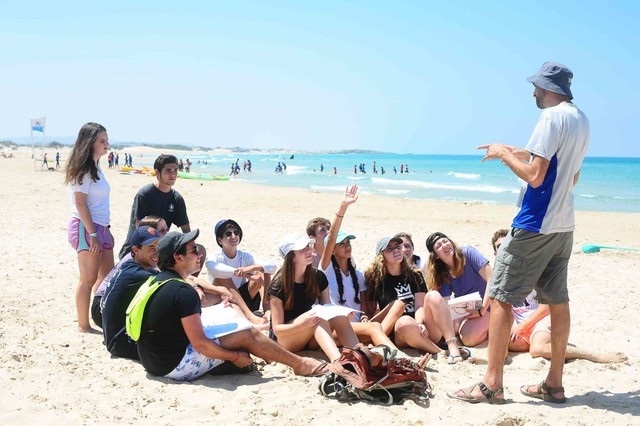 Summer participants can make a difference in a fun and meaningful way on Roots Israel, a four-week service-learning adventure that strengthens Jewish identity. Teens travel throughout the country and volunteer with local Israelis, all while exploring issues of environmentalism and social sustainability that are crucial to Israel's way of life, while earning community service hours.
"AMHSI was truly the most impactful experience of my life. I was able to make the most meaningful friendships, see amazing places, and be my best self. I strongly urge anyone thinking about going to go for it, because you will not have a single regret," said Lindsay Gothard, an alumna from last year's Spring Semester and a current student at Plano West.
For more information on how to apply, on financial aid, or to find the session that's right for your teen, visit amhsi.org, or email Galit Birk at gbirk@jnf.org, or call 214-433-6600 x944.
For more information on Dallas Hebrew Free Loan Association's no interest Jewish Experience loans call 469-206-1639 or Apply Now online.